Advertise with the Chamber
Your Chamber membership is chock full of FREE marketing tools such as our event calendar, the hot deals tool, and our press release tool—all available through our Member Information Center (MIC).  There is also our visitor center that provides promotion and referrals for your business.
We understand that there are times when your business needs a little extra exposure, whether for an event, new product roll-out, seasonal sale, or the announcement of a remodel. We've got you covered.
The Chamber is your marketing partner and we strive to provide your business with proven opportunities and exposure through print, digital, radio, and billboard media, annual and event sponsorships, website banner ads, upgraded website listings, blog ads and more.
When you use the Chamber as your marketing partner, you receive repeat, year-round coverage, monthly reports (for banner ads). Just a few customer referrals (sometimes only one!) from the chamber will more than pay for your annual dues.
Each of the benefits in the sponsor package is also available as á la carte items making it affordable for every size business.
Reach By The Numbers
Website Traffic: 184, 239
Visitor Center Traffic: 12,300
Local Media Buys (paid & organic): 350,000
Chamber Magazine (print & online): 14,000
Social Media Engagement: 156,049
Social Media Reach: 4,459,058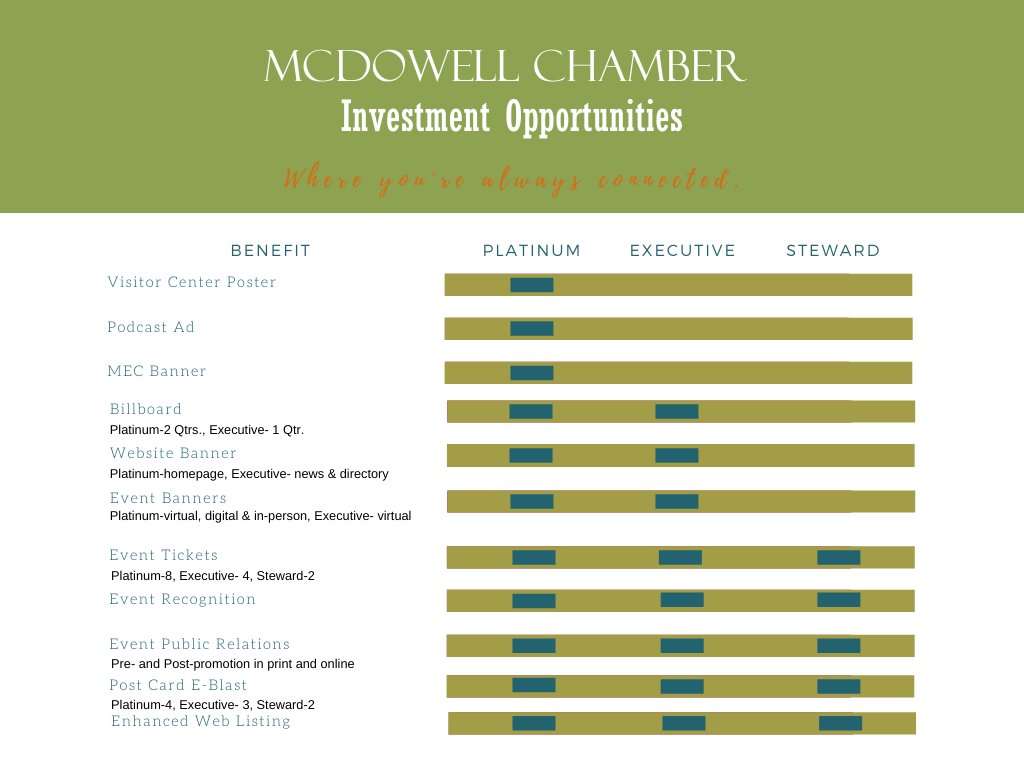 Please contact us at mountains@mcdowellchamber.com or by phone at 828.652.4240 to see how we can serve your marketing needs.
FACT: CONSUMERS ARE 63% MORE LIKELY TO BUY FROM A CHAMBER-MEMBER BUSINESS.
Source: 2007 Survey by The Schapiro Group, Atlanta