CHAMBER RESOURCE GUIDE TO COVID-19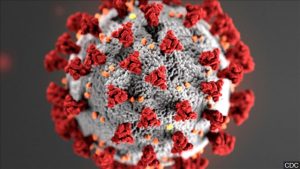 As we continue to learn more about COVID-19 across the United States and in North Carolina, we want to ensure that we're following the recommendations set forth by the Foothills Health District (FHD), which oversees McDowell County, our local Emergency Management System, and the Centers for Disease Control and Prevention (CDC). The health and wellness of our members and our staff is critically important to us, so we want to provide the latest guidelines to all of you as you consider the precautions you and your team will take in the coming days.
We've also compiled important resources and information regarding economic assistance available for small businesses from local organizations as well as the Small Business Administration through the recent signing of the Coronavirus Preparedness and Response Supplemental Appropriations Act (CPRSA of COVID-19 BILL).
As new information is forthcoming, we will continue to update this section for our members and the community at large.
What's included in this COVID-19 RESOURCE PACKAGE for small businesses.
Local guidelines and recommendations for protocols and procedures for McDowell County Business Owners/Managers
Important links to reliable information on COVID-19 updates
Financial and disaster assistance information for small businesses including qualifications and where to apply.
Local resources links and information for businesses
Our goal is to minimize the impact on our community by looking to our public health experts for guidance related to COVID-19. Here are some additional resources for your reference.
We hope to maintain business as usual, but also want to ensure we're aligning with best practices to do all we can to keep our community healthy.
It is important to make sure the information you are getting about COVID-19 is coming directly from reliable sources like the CDC and North Carolina Department of Health and Human Services (NCDHHS). For more information, please visit the CDC's website at www.cdc.gov/coronavirus and NCDHHS' website at www.ncdhhs.gov/coronavirus, which will also include future positive COVID-19 test results in North Carolina.
Going forward, the Department of Health and Human Services will update the count of positive test results daily on online at www.ncdhhs.gov
As of 5 p.m. Tuesday, March 17, 2020, Governor Roy Cooper has ordered all food establishments to eliminate dine-in service. Restaurants and food service facilities are allowed to provide delivery and curbside service during this time. 
APRIL 1, 2020: Currently the state of North Carolina is under a Stay at Home Order from Governor Roy Cooper until April 29, 2020. The office of the Governor released a FAQ along with the Order. The McDowell County Commissioners have issued its own Stay At Home Order and the closing of all non-essential businesses in the county. 
As new requirements and guidelines are issued daily, we will attempt to keep this updated for our business community and the public. Businesses are being impacted by altered operations, and increased employee absence. We know that our small businesses are the lifeblood of our economy--nearly half of the U.S. workforce is employed by small business owners. The CDC, Department of Health and Human Services, the FHD, and the Chamber are recommending the following practices for businesses during this health crisis. We understand that a sudden change in business practices can be disruptive and difficult. We will assist our members in any way we can to ensure adherence and optimal hygiene to mitigate issues.
Actively encourage sick employees to stay home.
Ensure your sick-leave policies are flexible and consistent with Public Health Guidelines and send them out to ALL employees.
Do NOT require a doctor's note for respiratory conditions to return to work.
Be flexible to allow staff to care for sick or at-risk family members.
Cross-train staff to do multiple duties as increased absenteeism can be expected.
Allow telework/remote work options wherever possible and stagger work schedules to reduce the number of people in one place at a time.
Cancel all non-essential travel and hold virtual meetings where possible.
Downsize operations where possible.
Contact local Staffing Companies early to prepare for absentee and sick employees.
Place signs at the door reassuring customers that you are being diligent with hygiene and health-related policies.
 Have ample and visible Clorox/hand sanitizer/soap and tissues to ease customers' and employees' minds.
Instruct staff to use hand sanitizer with 60-95% alcohol.
Provide soap, water, and alcohol rub in multiple locations
Do more environmental cleaning especially on frequently touched or shared surfaces (copy machine, phone, countertops, chairs, doors, etc.).
Cancel or postpone events with expected turnouts of 50 or more people.
Offer a drive-through for products, including paying ahead online/not accepting cash or touching the customer's card on site.
Consider free shipping for online sales or call-ins to encourage visitors staying in.
Communicate with your customers in a positive manner and don't let them know or see that you are inconvenienced in any way. A positive attitude is contagious and goes a long way in assuaging any fears.
Use email lists and social media to craft a special message to your customers and let them know what you are doing to protect them and your staff and inform them of all the ways they can continue to do business with you.
Extend or alter your hours to allow shoppers to shop at off-peak hours.
Plan for interrupted supply chain of products and communicate quickly and positively to your customers.
Meet with your staff to update them on procedures and practices during this time, including your leave policy and what temporary policies you are implementing--be clear, upfront, and thorough. Let them know you care about their health as well.
ECONOMIC ASSISTANCE AND/OR RESOURCES